Watches That Perfectly Match Your Casual Outfits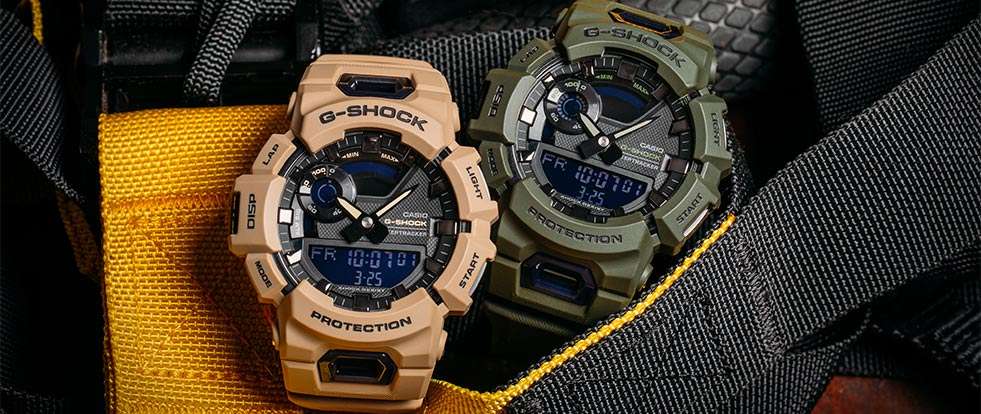 Explore watches that effortlessly match your everyday outfits, adding a touch of sophistication to your look. Find the perfect watch for your relaxed and fashionable moments.
In this era, fashion is regarded as an expression of each individual's identity. The clothing they wear speaks about their character, and wearing each accessory will elevate the overall look. One such detail that can elevate your casual outfit to a whole new level is the watch you choose to wear. Watches are not just functional accessories for telling time; they also serve as style statements. When it comes to matching your watch with your casual outfits, there are several timeless pairings that can help you achieve a perfectly coordinated look. In this blog, we'll explore some of these pairings and offer tips on how to effortlessly match your watch with your casual attire.
1. The Classic Leather Watch and Denim Combo
When it comes to casual dressing, a classic leather watch and denim go hand in hand. The rugged, yet timeless look of denim pairs perfectly with the understated elegance of a leather strap watch. Whether you're wearing a simple white t-shirt and jeans or a denim jacket with pants, a leather watch adds a touch of sophistication to your overall look. Opt for a brown leather strap for a warm and versatile choice, or go for black leather for a sleek and modern appearance.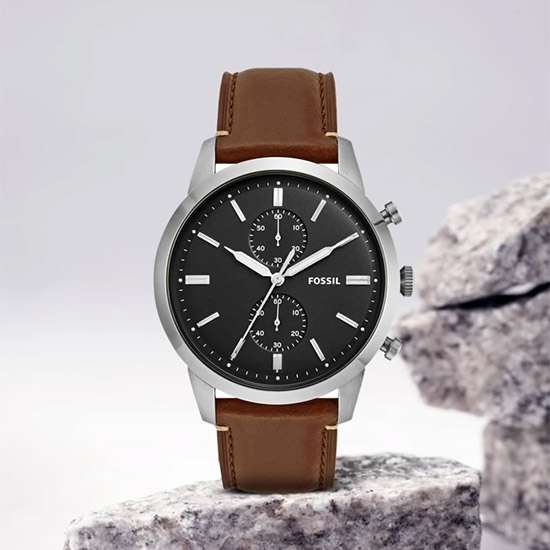 The Fossil Townsman Watch features a 44 mm stainless steel case and comes equipped with a leather strap.
2. The Sporty Watch and Athleisure Ensemble
Athleisure has become a go-to style for many people, blurring the lines between activewear and everyday fashion. To complement your sporty athleisure outfits, consider a sports watch. These watches often feature robust designs and functionalities like chronographs, tachymeters, and water resistance. They're not only functional but also add a cool, sporty vibe to your look. Whether you're hitting the gym or just going for a casual stroll, a sporty watch is an excellent choice.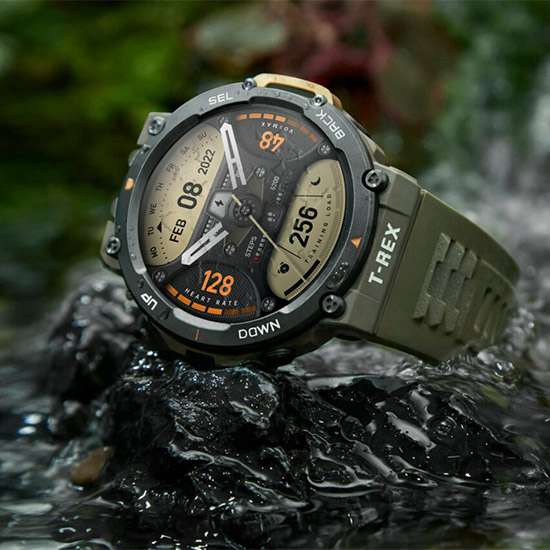 Amazfit T-Rex 2 Premium Multisport GPS Sports Watch
Amazfit T-Rex 2 Premium Multisport GPS Sports Watch, Real-time Navigation, Strength Exercise, 150+ Sports Modes &10 ATM Waterproof, Heart Rate, SpO2 Monitoring and 24-day Long Battery Life(Wild Green).
3. The Minimalist Watch and Monochromatic Outfits
For those who prefer a more minimalistic and understated approach to fashion, a minimalist watch is the ideal companion for monochromatic outfits. A simple, clean dial with a slim case and a mesh or leather strap can seamlessly blend with your all-black, all-white, or grayscale ensembles. The key here is to let the watch be the accent piece that adds a touch of elegance to your outfit without stealing the spotlight.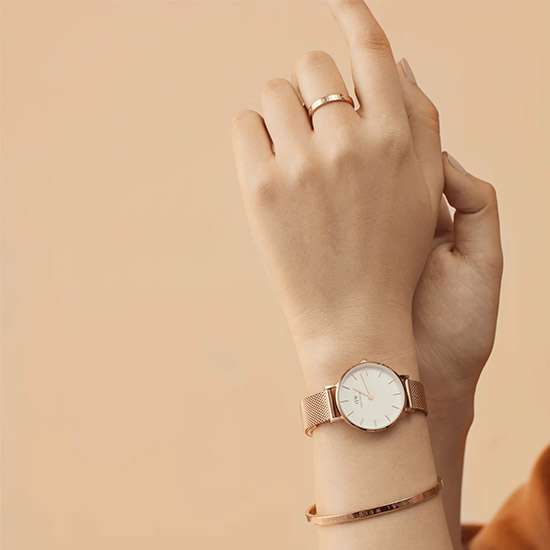 Daniel Wellington Petite Melrose features an eggshell white dial and an undeniably elegant rose gold mesh strap.
4. The Nautical Watch and Beachwear
If you're headed to the beach or embracing a coastal-inspired look, a nautical watch is the perfect choice. These watches often feature maritime elements like blue dials, red and white accents, and sometimes even a rotating bezel. They're not just functional for water activities but also add a touch of beachy charm to your attire. Pair it with your favorite swim trunks or a breezy linen shirt for a relaxed, seaside vibe.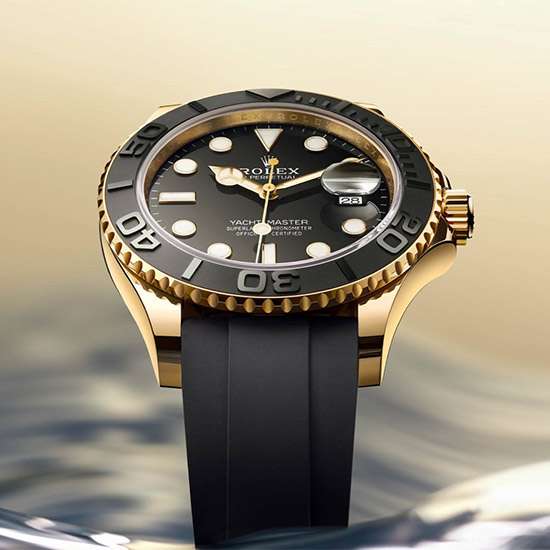 Rolex Oyster Perpetual Yacht-Master 2
Rolex Oyster Perpetual Yacht-Master 42 is equipped with calibre 3235, a movement at the forefront of watchmaking technology, enabling it to display the hours, minutes, seconds, and dates.
5. The Digital Watch and Streetwear
Streetwear is all about embracing bold, edgy fashion, and a digital watch fits right in. Digital watches are known for their modern, high-tech appearance. They often include features like backlighting, multiple alarms, and digital displays. When wearing streetwear, a digital watch can be a statement piece that adds an urban and tech-savvy edge to your outfit. Don't be afraid to mix and match colors and styles to create a unique streetwear look.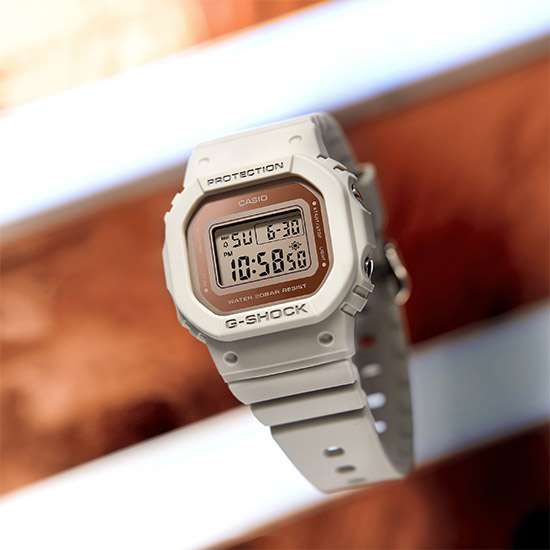 The Casio digital watch with urethane case and the band features a silky matte finish in classic white. The side buttons and buckles are made of stainless steel, lending an elegant shine to a casual look when combined with the urethane case and band.
6. The Vintage Watch and Retro-inspired Outfits
For those who appreciate the charm of bygone eras, a vintage watch is the perfect choice to complement retro-inspired outfits. Whether you're rocking a '70s disco look or embracing the '90s grunge aesthetic, a vintage watch with a leather or metal band can provide an authentic touch. The patina, unique design, and history of vintage watches make them excellent conversation starters and style enhancers.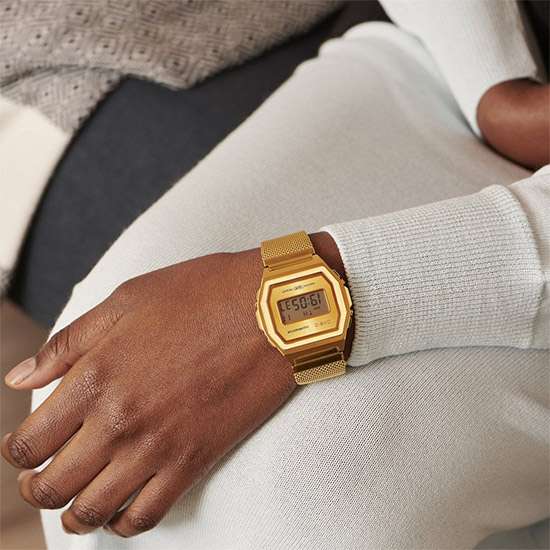 Casio Vintage Unisex Digital Watch
The Casio Vintage watch features a gold dial and a matching gold stainless steel strap with an adjustable clasp. The case is made of stainless steel, and it offers a water resistance of up to 50 meters, embodying a vintage style.
Here are a few additional tips for pairing your watch with your casual outfits:
Choose a watch that is the right size for your wrist. A watch should not be too big or too small for your wrist. Pick out a watch that is the right color for your outfit. If you are wearing a light-colored outfit, you can choose a watch with a light-colored strap. If you are wearing a dark-colored outfit, you can choose a watch with a dark-colored strap.
Choosing the right watch to match your casual outfit can significantly impact your overall look. Whether you opt for a classic leather watch, a sporty timepiece, a minimalist design, a nautical watch, a digital companion, or a vintage piece, the key is to ensure that your watch harmonizes with your outfit's style and vibe. By paying attention to this detail, you can create a cohesive and polished look that reflects your personal style and leaves a lasting impression. So, the next time you're getting dressed casually, don't forget to consider the timeless pairings that watches offer in the world of fashion.
FAQ
1. What are some popular brands known for casual watches?
    Some popular brands that offer stylish and well-matching casual watches include Fossil, Citizen, Seiko, Timex, and Casio. These brands provide a wide range of options to suit different tastes and preferences.
2. Are there affordable options for casual watches that look stylish?
    Absolutely! There are many budget-friendly options available that offer style and quality without breaking the bank. Look for well-known brands such as Casio, Citizen, etc.. that offer affordable casual watch collections.
3. Where can I find a wide variety of watches that match casual outfits?
Discover a variety of casual watches on our website, www.swisstimehouse.com.
4. Can I wear a smartwatch with casual attire?
   Yes, you can wear a smartwatch with casual outfits. Many smartwatches offer customizable watch faces, allowing you to switch to a more casual style when needed. They are versatile and practical for various occasions.
5. What is a good watch size for casual wear?
  A watch size between 38mm and 42mm in diameter is generally considered suitable for most casual outfits. However, the best size depends on your wrist size and personal style, so try on different sizes to see what looks and feels right for you.
Comments (0)
No comments at this moment