ICONIC GUESS WATCH COLLECTIONS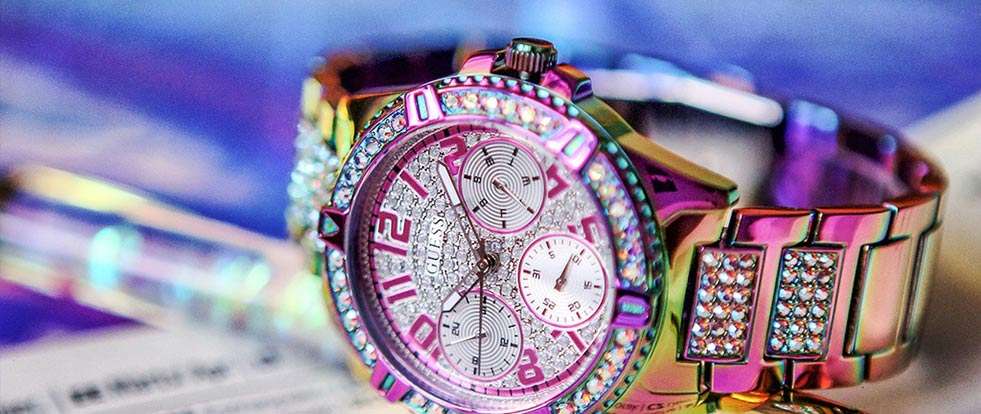 Embrace the epitome of style and sophistication with the iconic Guess watch collections. These exquisite timepieces seamlessly blend classic designs with modern sensibilities, making them perfect for any occasion.
Wristwatches exceed their primary purpose of timekeeping to become stylish fashion accessories that make a statement about the wearer's personality and taste. Among the many brands that have made their mark in the world of fashion watches, Guess stands out with its iconic watch collections. From classic designs to contemporary trends, Guess watches have consistently defined elegance and style. In this blog, we'll take you on a journey through some of the most iconic Guess watch collections that have left an indelible mark in the world of horology.
The Birth of Guess Watches
The Guess brand was founded in 1981 by the Marciano brothers. Initially, it operated as a denim company in California, but it has since grown to become one of the largest and most successful fashion brands in the world. Thanks to their innovative design ideas and marketing strategies, Guess has gained a reputable presence worldwide, particularly among young men, women, and children.
Guess Watches introduced its collection in 1983, featuring a line of men's and women's fashion watches. In line with the brand's image, these watches appeal to young, fashion-conscious consumers across the globe. The brand provides an extensive selection of Guess watches for men and women.
Guess Watch Collections
1. Guess Men's GW0265G8 Watch
This elegant Guess watch combines sophistication with a touch of boldness. Featuring a stainless steel case and bracelet, the GW0265G8 offers a timeless design with a modern twist. The striking green dial is adorned with silver-tone hands and markers, creating a sleek contrast. With its quartz movement and date function, this watch is not only a fashion statement but also a reliable timepiece.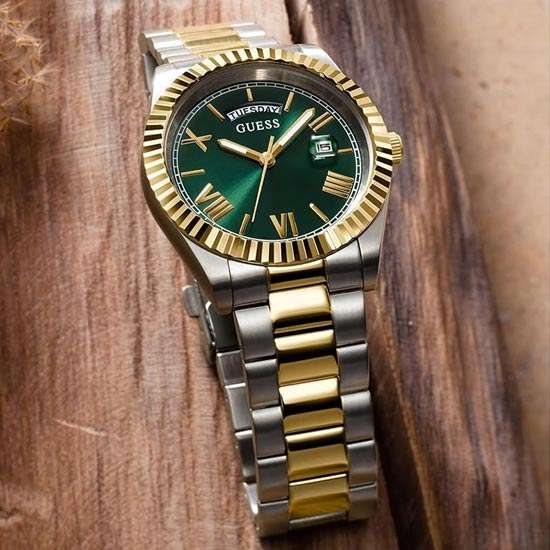 Enhance your style with the GUESS Mens 2-Tone Day/Date Watch, featuring a stainless steel case, a round mid-size silhouette, and an eye-catching green dial.
2.Guess Women's GW0605L2 Watch
 The GW0605L2 Guess watch exudes a sense of refined style and luxury. It's rose gold-tone stainless steel case and bracelet blend seamlessly with the soft, luxurious champagne gold dial with glitter decoration. The crystal-encrusted bezel adds a touch of glamour, making it perfect for special occasions. With precision quartz movement, this watch not only keeps perfect time but also serves as a chic accessory, making a bold statement about the wearer's refined taste and fashion-forward sensibility. Whether for a formal event or everyday elegance, the Guess watch effortlessly combines functionality and glamour, making it the perfect watch for women.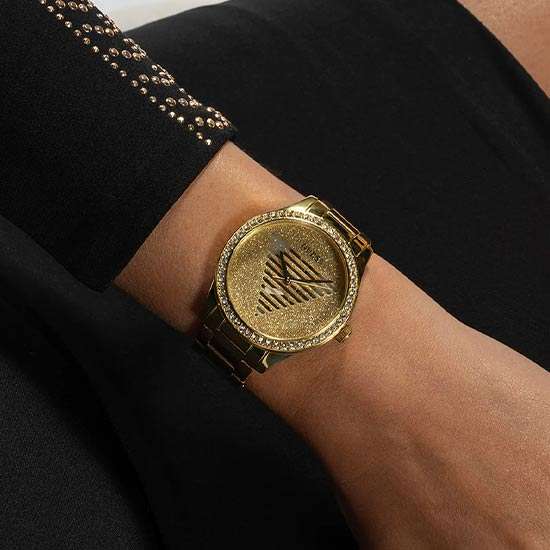 Indulge in timeless elegance with the GUESS Ladies Gold Tone Analog Watch, featuring a polished stainless steel round case in a mid-size design and a luxurious champagne dial that adds a touch of sophistication to any ensemble.
3. Guess Men's GW0456G3 Watch
 The Guess watch GW0456G3 is a striking timepiece that effortlessly combines modern design with timeless elegance. Encased in durable stainless steel with a rich gold-tone finish, this watch exudes sophistication. The bold green dial features luminous hands and markers, adding a touch of practicality to its aesthetic appeal. The multifunction sub-dials offer additional functionality, including day, date, and 24-hour displays. With a comfortable and stylish gold silicone strap, the Guess watch GW0456G3 is not just a watch but a fashion statement, reflecting the wearer's refined taste and appreciation for contemporary design. Whether for a formal occasion or everyday wear, this watch seamlessly blends style and functionality in a harmonious timepiece.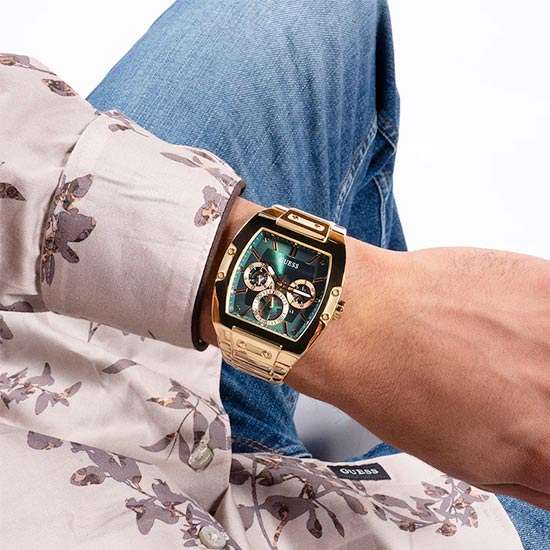 Elevate your wristwear with the GUESS Men's Gold Tone Multi-function Watch, boasting a stainless steel rectangle case in an oversized design and a distinctive green dial that adds a touch of contemporary sophistication to any ensemble.
4. Guess Women's GW0604L3 Watch
The GW0604L3 Guess Watch is a captivating and elegant timepiece that captures attention with its sophisticated design. Encased in polished stainless steel with a luxurious rose gold-tone finish, this watch exudes a timeless charm. The sunray dial showcases minimalist hour markers, the iconic Guess logo, and subtle crystals that add a touch of glamour. The genuine rose gold stainless steel strap complements the overall aesthetic, making it a perfect accessory for any occasion. With precision quartz movement, the Guess watch GW0604L3 not only keeps accurate time but also serves as a symbol of refined taste and contemporary style, making it a versatile and chic addition to any wardrobe.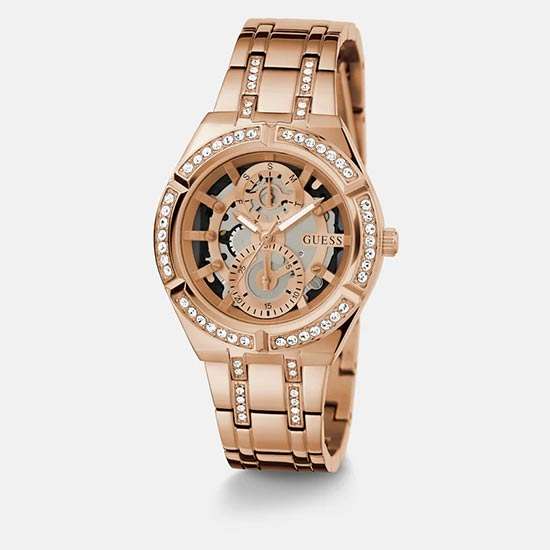 Elevate your style with the GUESS Ladies Rose Gold Tone Multi-function Watch, showcasing a polished stainless steel round case in a mid-size design and a captivating rose gold dial, combining fashion-forward aesthetics with practical functionality.
5. Guess Men's GW0645G2 Watch
 The GW0645G2 Guess watch offers a blend of rugged elegance with a hint of adventure. With a durable stainless steel case and a comfortable leather strap, it's perfect for everyday wear. The black dial is adorned with silver-tone accents and a date display, and it's powered by precise quartz movement. This timepiece is versatile and designed for those who appreciate a classic yet sporty look.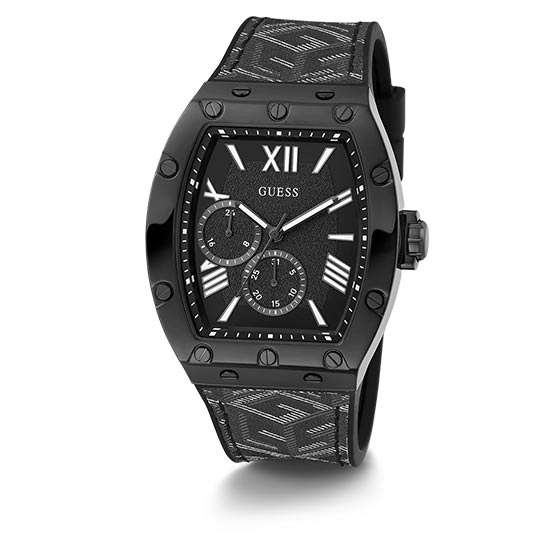 Make a bold statement with the GUESS Men's Black Multi-function Watch, featuring a polished stainless steel rectangle case in an XL size, perfectly complemented by a sleek black dial that exudes modern sophistication.
In the ever-changing world of fashion, Guess watches remain a constant symbol of timeless elegance and style. These iconic collections are not just watches; they are statements that reflect your personality, your taste, and your appreciation for fine craftsmanship. Guess watches are more than mere timekeepers; they are expressions of individuality, and they continue to be a beloved accessory for those who understand the power of timeless style.
FAQ
1. Can I find limited edition Guess watches?
Yes, Guess occasionally releases limited edition watches that showcase unique designs and features. These limited editions add an extra element of exclusivity to the brand's offerings.
2. How often should I service my Guess watch?
It is recommended that you have your iconic Guess watch serviced every 2-3 years. This will help to keep the watch running smoothly and accurately.
3. How to check if a Guess watch is original?
Authentic Guess watches come with high-quality packaging, featuring a sturdy box with the brand logo printed clearly. Counterfeit packaging may appear flimsy, have misspellings or incorrect logos, or come in a non-Guess box. Carefully examine the watch's dial, hands, and case for any inconsistencies or imperfections. Genuine Guess watches have sharp, well-defined markings, consistent spacing between elements, and a smooth, polished finish. Locate the serial number on the back of the watch or on the warranty card. Match the serial number to the one provided on the Guess website or with the official Guess retailer.
4. Where can I buy Guess watches?
We strongly recommend that you purchase your Guess watch from an authorized retailer. To purchase Guess watches,  visit our website www.swisstimehouse.com/manufacturer/guess
5. How to set time on Guess watch?
To set the time on your Guess watch, first, locate the watch crown on the side of the case. Pull out the crown of your GUESS watch to the C position and turn it clockwise to the correct time. Once the correct time is set, push the crown back in to secure the time adjustment.
6. Are Guess watches water-resistant?
Many Guess watches are water-resistant to varying degrees. It's essential to check the specific model's water resistance rating, as it can vary across different collections.
Comments (0)
No comments at this moment