Exploring Innovative Craftsmanship in Iconic Watches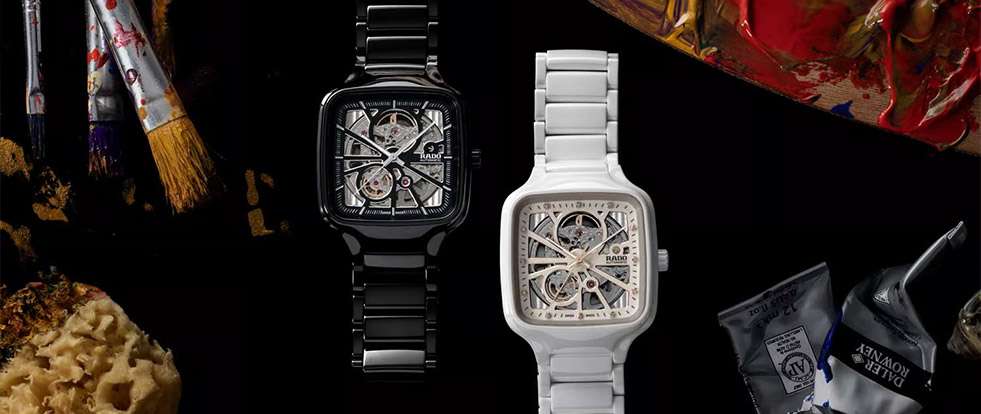 Embark on a captivating journey through the intricate world of watchmaking, where cutting-edge innovation seamlessly intertwines with timeless craftsmanship to give life to legendary timepieces. 
Watches are more than mere timekeeping instruments, they are expressions of artistry, precision, and innovation. In the world of horology, certain watches stand out for their innovative craftsmanship, pushing the boundaries of design and functionality. Join us as we embark on a journey through the realms of watchmaking, exploring iconic models that redefine the art of crafting time – the Franck Muller Gravity, Rado True Square Automatic Open Heart, Earnshaw Longcase, Rolex Sky-Dweller, Casio G-Shock MR-G Series, and Omega Aqua Terra 150M.
1. Franck Muller Gravity Watch
   The Franck Muller Gravity watch is a visual symphony of innovation, featuring a mesmerizing tourbillon escapement visible through the dial. Positioned prominently on the dial, the tourbillon becomes the focal point of the watch, offering a captivating view of its continuous, rhythmic motion. The tonneau-shaped cases of the Gravity watch series contribute to its distinctive identity. Designed with meticulous attention to detail, these cases underscore Franck Muller's commitment to innovative design. The distinctive shape not only ensures a comfortable fit on the wrist but also acts as a medium for the brand to articulate its creative vision. Beyond the tourbillon and case design, Franck Muller Gravity watches often feature intricate dial details, such as guilloche patterns, textured finishes, or multi-layered constructions. The brand's commitment to craftsmanship is evident in the meticulous execution of these elements, adding depth and character to each timepiece. In terms of materials, Franck Muller Gravity watches may incorporate a range of high-quality components, including precious metals, exotic alloys, and advanced materials. The combination of innovative materials and traditional craftsmanship results in timepieces that are not only aesthetically pleasing but also technologically advanced.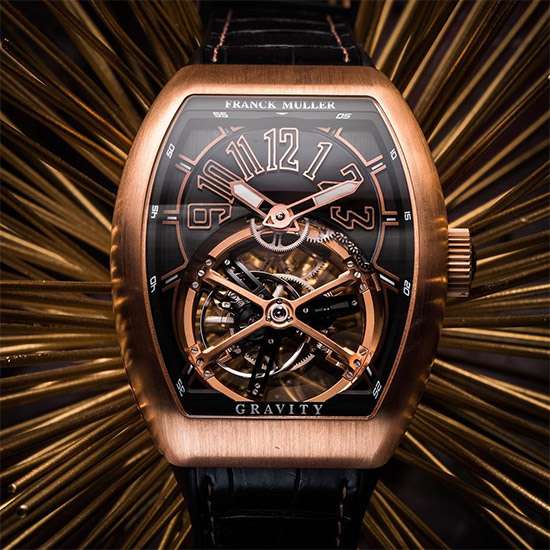 Franck Muller Vanguard Gravity Tourbillon Watch
The Franck Muller Vanguard Gravity Tourbillon boasts a sleek design with a black sun-brushed dial, complemented by an alligator strap in black, a folding clasp buckle, and a water resistance of 30m/3 bar.
2. Rado True Square Automatic Open Heart Watch
The Rado True Square Automatic Open Heart watch is a stunning example of Swiss watchmaking. The watch features a square case with an open heart dial, which reveals the watch's movement. The open-heart design on the dial is a captivating focal point that sets this timepiece apart. The open space on the dial showcases a dynamic view of the intricate movement that powers the watches. With sleek numerals marking the hours, and often featuring the signature anchor logo at 12 o'clock, the True Square Automatic Open Heart achieves a perfect balance between simplicity and sophistication. Powered by an automatic movement, the Rado True Square Automatic Open Heart watch ensures precision timekeeping while eliminating the need for manual winding. The self-winding mechanism adds a layer of convenience for the wearer, allowing them to enjoy the beauty of the open-heart feature without compromising on performance. In terms of materials, Rado's expertise in high-tech ceramics is often evident in the True Square collection. The Rado watch may feature a ceramic case or bracelet, offering a lightweight and scratch-resistant construction. This choice of material not only enhances the watch's durability but also adds a modern touch to its overall aesthetic.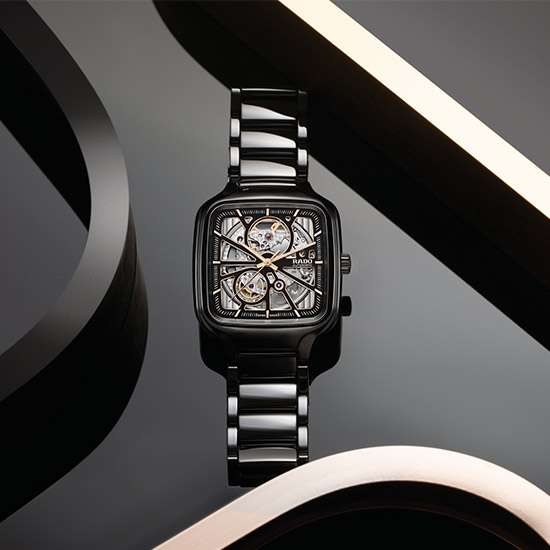 Rado True Square Automatic Open Heart Watch
The Rado True Square Automatic Open Heart Watch impresses with its automatic movement, a case crafted from High-Tech Ceramic and Titanium/PVD, a sapphire crystal case with an anti-reflective coating on both sides.
3. Earnshaw Longcase Watch
The Earnshaw Longcase watch embraces a vintage-inspired aesthetic, featuring a refined round case that pays homage to classical horology. Crafted with meticulous attention to detail, the case is often available in various materials such as stainless steel or precious metals, showcasing Earnshaw's commitment to quality craftsmanship. One of the defining features of the Earnshaw Longcase watch is the exposed balance wheel prominently displayed on the dial. This open-heart design provides a captivating view of the watch's regulating organ, inviting wearers to appreciate the intricate ballet of the escapement and balance wheel.  The dial of the Longcase watch is a canvas of elegance, adorned with refined hour markers and often complemented by decorative elements such as guilloche patterns or textured finishes. The choice of classic Roman or Arabic numerals adds a touch of vintage charm, reinforcing the watch's connection to horological traditions.  The self winding mechanism automatically wind the watches time, day and date feature which will provide a hassle free experience for the user.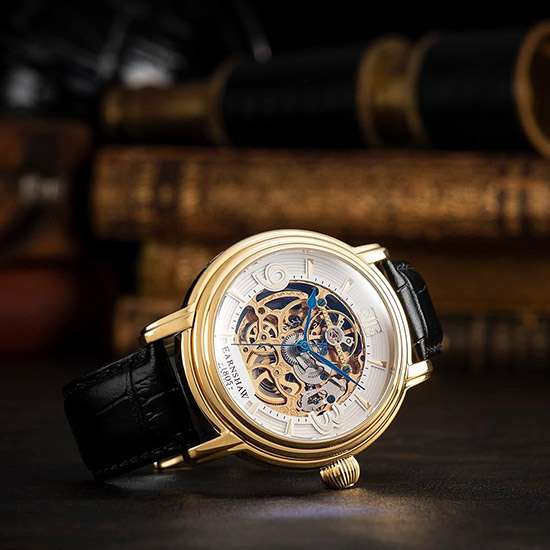 The Earnshaw Longcase Grande Skeleton Automatic Watch features an automatic skeleton movement, a stainless steel case with Ionic Plating in gold, a 22mm black genuine leather strap, and a water resistance of 5 ATM.
4. Rolex Sky-Dweller Watch
   The Rolex Sky-Dweller watch is a groundbreaking watch that was designed for pilots. The Rolex Sky-Dweller is a complex and innovative timepiece that was designed for frequent travelers. It features a dual time zone complication, which allows the wearer to keep track of two time zones at once. The Sky-Dweller also has an annual calendar, which automatically adjusts for the different lengths of months. Additionally, the watch has a Ring Command bezel, which allows the wearer to easily adjust the various functions of the watch. The Sky-Dweller is powered by the Rolex Caliber 9001 self-winding mechanical movement, equipped with a Parachrom hairspring—a proprietary alloy resistant to magnetic fields. The Sky-Dweller is available in a variety of materials, including Oystersteel, Rolesor (a combination of Oystersteel and gold), and Everose gold. The Sky-Dweller is a truly innovative timepiece that is perfect for the frequent traveler. If you are looking for a watch that will keep you on time and in style, the Rolex  Sky-Dweller watch is the perfect choice.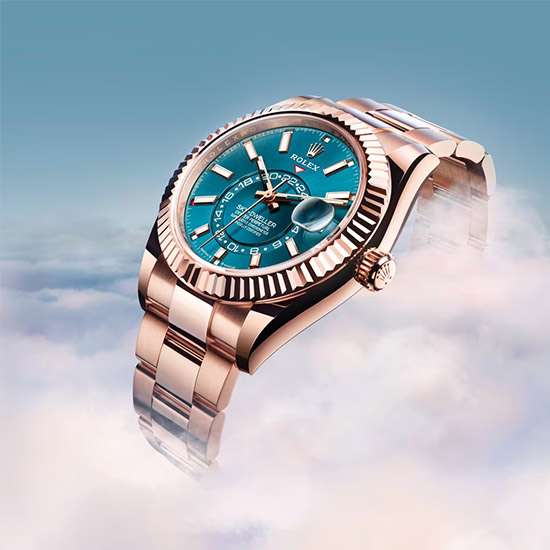 Rolex Oyster Perpetual Sky-Dweller
The Rolex Oyster Perpetual Sky-Dweller Watch equipped with the Saros annual calendar and Ring command system, efficiently displays dual time zones, along with the date and month. This can be adjusted with a single, straightforward gesture.
5. Casio G-Shock MR-G Series
   The Casio G-Shock MR-G Series watches are the pinnacle of G-Shock innovation and craftsmanship. These timepieces are meticulously crafted with premium materials and cutting-edge technology, making them some of the most durable and feature-rich watches in the world. The MRG-B5000 features a specially dedicated module with gold plating applied to the retainer plate for the circuit board to reduce shock resistance. It also has scratch-resistant, highly transparent sapphire crystal with an anti-reflective coating. Every MR-G is crafted with meticulous attention to detail, using only the finest materials. The MR-G Series features an impressive array of advanced functionalities, including shock resistance, 50-bar water resistance, tough solar technology, and the ability to display the time in 5 world cities selected from a total of 39. Solar power provides a virtually endless source of energy, eliminating the need for battery changes. Worn by discerning individuals around the world, these watches are a testament to Casio's commitment to creating exceptional timepieces that stand the test of time.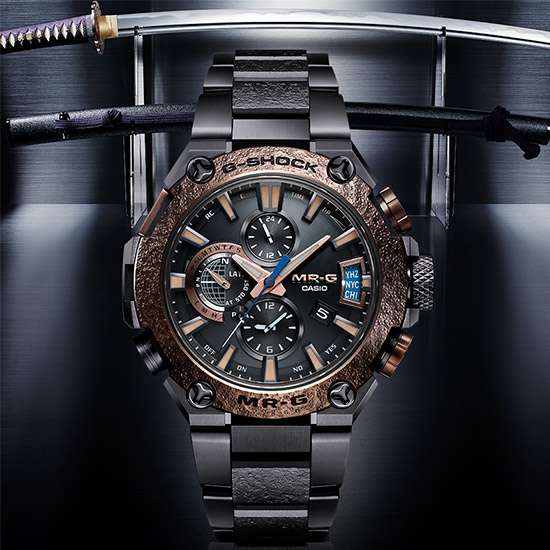 Casio MRG-B2000R-1A
The Casio MRG-B2000 Series features a dial with a foundational surface showcasing a textured scale pattern. Its outer edge is fashioned to mimic either a fan or a folding screen. The indices elegantly mirror the curvature of a Japanese sword through expertly rendered contoured surfaces.
6. Omega Aqua Terra 150M Watch
The Omega Seamaster Aqua Terra 150M World timer watch Collection is a remarkable line of watches that seamlessly blends elegance with functionality. At the core of the World Timer Collection lies the state-of-the-art Master Chronometer Calibre 8938 movement. This indicates that no matter where you are in the world, your Aqua Terra World timer will keep accurate time, even in the most challenging environments. One of the most distinctive features of the World Timer Collection is its unique dial. The dial features a mesmerizing representation of the Earth, with continents rendered in laser-ablated titanium. This intricate detail is not only visually stunning but also serves as a functional element of the watch. The World Timer Collection also features a 24-hour ring, which allows you to easily track the time in 24 different time zones. Simply adjust the city ring to the desired location, and the 24-hour hand will indicate the time in that zone. This makes it easy to stay connected with friends and family around the world, no matter where you are. The watches are available in a variety of case materials, including stainless steel, titanium, and Sedna gold. The dials are adorned with a variety of finishes, including sun-brushed, polished, and laser-ablated surfaces. The hands and indices are made from Super-LumiNova, which makes them easy to read in low-light conditions. With its innovative craftsmanship, elegant design, and exceptional precision, the Omega Seamaster Aqua Terra 150M World Timer Collection is the perfect watch for the discerning traveler.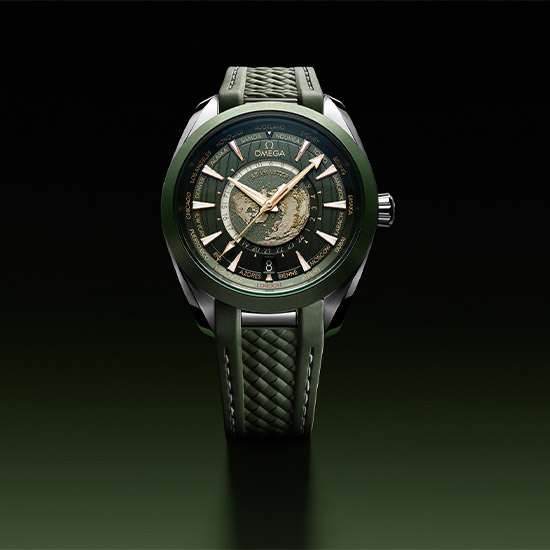 Omega Seamaster Aquaterra 150M Co-axial Master chronometer
The Worldtimer, measuring 43 mm, features a stainless steel case and a seamlessly integrated green rubber strap adorned with grey stitching. It includes an extra decorative link in polished steel and a foldover clasp with a polished-brushed finish.
As we conclude our journey through these iconic watches, it's evident that watches with innovative craftsmanship are more than just tools for telling time; they are expressions of art and technological skills. From Franck Muller's Gravity-defying conventions to Omega's Aqua Terra 150M sailing through innovation, each watch on this list is a testament to the enduring spirit of creativity within the world of horology. These masterpieces on the wrist not only keep time but also tell a story of the boundless possibilities when craftsmanship meets innovation.
FAQ
1.What makes the Franck Muller Gravity Watch unique?
 The Franck Muller Gravity stands out for its advanced design and the incorporation of the Gravity control module, showcasing a distinctive approach to watchmaking. Its innovative craftsmanship is a fusion of unconventional design and intricate movement engineering.
2. What sets the Rado True Square Automatic Open Heart apart from other watches?
The Rado True Square Automatic Open Heart distinguishes itself with its open-heart design, revealing the intricate automatic movement. Crafted with modern materials like high-tech ceramic, it represents a harmonious blend of contemporary aesthetics and traditional craftsmanship.
3. Could you elaborate on the craftsmanship of the Earnshaw Longcase?
The Earnshaw Longcase pays homage to classic horology with its longcase design. Crafted with precision and attention to detail, this watch reflects Earnshaw's dedication to preserving traditional watchmaking techniques, making it a timeless piece.
4. What is special about the Rolex Sky-Dweller Watches?
The Rolex Sky-Dweller is known for its distinctive and sophisticated design, combining a dual time zone feature with an annual calendar, making it particularly useful for frequent travelers. The watch also features the innovative "Ring Command" bezel, allowing users to easily select and adjust different functions through the crown, showcasing Rolex's commitment to both functionality and luxury craftsmanship.
5. Why are G-Shock watches so popular?
G-Shock watches are immensely popular due to their unparalleled durability, innovative technology, and distinctive rugged design. Renowned for their shock resistance, water resistance, and robust construction, G-Shock timepieces have earned a reputation for reliability in various demanding environments, appealing to both outdoor enthusiasts and those seeking stylish and resilient everyday watches. 
6. Can you elaborate on the world timer complication in the Aqua Terra 150M?
The world timer complication allows the wearer to easily track time in multiple time zones simultaneously. The Aqua Terra 150M features this functionality, displaying the time in 24 global cities, and providing practicality for frequent travelers.
Comments (0)
No comments at this moment