Breathtaking Collection of Turquoise Blue Dial Watches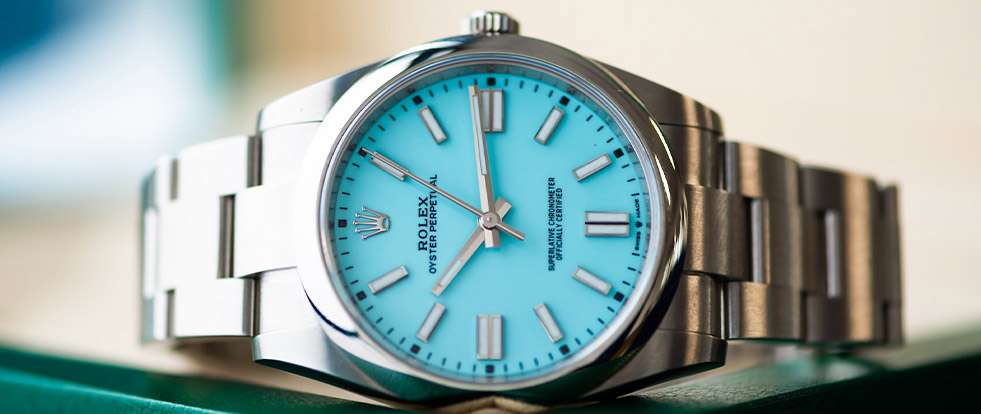 Discover elegance with our exquisite turquoise blue dial watches. Elevate your style with timepieces that blend sophistication and vibrant hues. Dive into a world of timeless beauty and browse our collection of turquoise blue dial watches for a touch of luxury on your wrist.
Turquoise blue watches have become increasingly popular in recent years due to the captivating color and timeless design. Turquoise blue symbolize the tranquity, protection, wisdom, good fortune and loyalty. Its enchanting combination of blue-green color evokes the calmness of the ocean and the vibrant energy of the sky. It is no wonder that turquoise watches have become increasingly popular in recent years. In this blog, we'll delve into the exquisite world of turquoise blue watches, spotlighting some remarkable timepieces from renowned brands.
1. Rolex Oyster Perpetual Turquoise Blue
The Rolex Oyster Perpetual is the epitome of timeless elegance, and when adorned with a turquoise blue dial, it becomes a true masterpiece. The radiant turquoise hue of the dial is complemented by the iconic Oyster case and bracelet, creating a harmonious blend of luxury and style. The watch is powered by a Rolex Caliber 3230 automatic movement, which offers a power reserve of up to 70 hours. The Rolex Oyster Perpetual Turquoise Blue is water resistant to 100 meters, making it suitable for swimming and other water activities. The precision and reliability of the Rolex movement further enhance the appeal of this distinctive timepiece, making it a coveted accessory for watch specialist.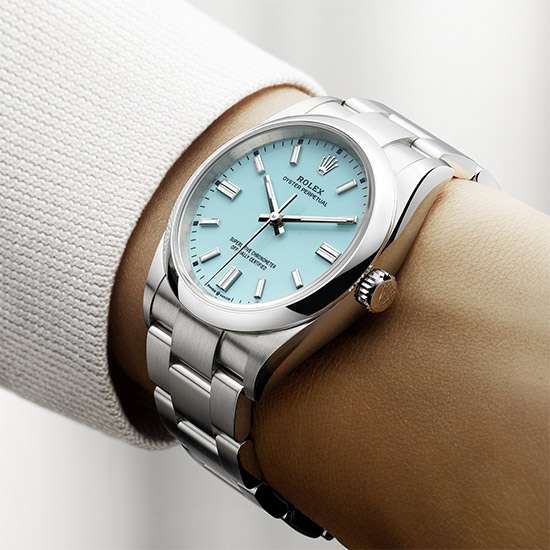 ROLEX Oyster Perpetual 36 Automatic Watch
The Rolex Oyster Perpetual boasts a 36 mm Oystersteel model case with Oyster architecture, featuring a monobloc middle case, screw-down case back, and winding crown for durability and precision.
2. Casio Enticer A2225 MTP-1302PD-2A2VEF
The Casio A2225 MTP-1302PD-2A2VEF ENTICER MEN Turquoise blue dial Watch is a stylish and versatile timepiece that is perfect for any occasion. The watch features a vibrant turquoise dial with silver-tone hands and markers, as well as a day and date window at the 3 o'clock position. The case is made of durable resin and the bezel is made of stainless steel. The watch is powered by a reliable quartz movement and is water resistant to 50 meters. It also features a comfortable and secure one-touch three-fold clasp. Powered by Casio's reliable Quartz movement, this Enticer Men's Watch ensures accurate timekeeping with minimal maintenance. With a water-resistant design, it is well-suited for everyday wear, allowing you to confidently adorn it for various occasions. Whether you're making a style statement in a professional setting or adding a pop of color to your casual ensemble, the Casio A2225 MTP-1302PD-2A2VEF Enticer Men's Watch in Turquoise Blue Dial is a versatile accessory that effortlessly blends bold design with practical functionality.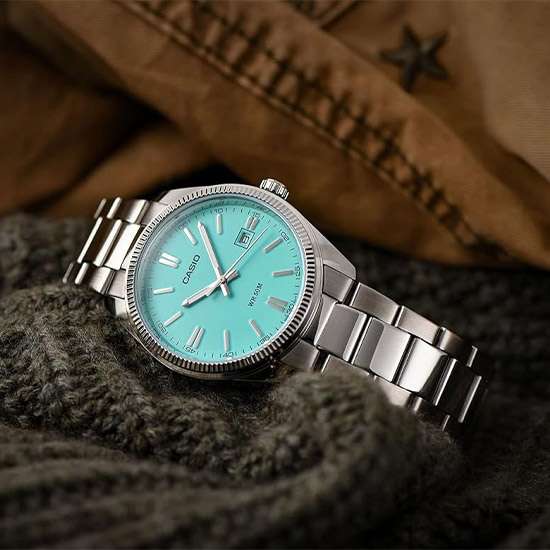 The Casio Enticer Men MTP-1302PD-2A2VEF - A2225 showcases an analog function display with a stainless steel band and a convenient one-touch 3-fold clasp.
3. Citizen BI511054M
The CITIZEN BI511054M Turquoise Blue Watch is a stunning minimal watch that effortlessly marries contemporary design with cutting-edge technology. The watch features a sleek stainless steel case, providing a robust yet refined foundation for the captivating turquoise blue dial. The dial's hue is a rich and vibrant shade of turquoise, adding a bold and distinctive touch to the overall design. The silver-tone hour markers and hands stand out against the blue backdrop, ensuring easy readability and a sophisticated look. Adding a touch of practicality to its elegance, the watch incorporates a date window at the 3 o'clock position, enhancing its functionality for daily wear. The stainless steel bracelet is crafted with precision, ensuring durability and a comfortable fit on the wrist. The attention to detail extends to the deployment clasp, providing a secure closure. Equipped with CITIZEN's renowned Eco-Drive technology, the BI511054M is powered by light, eliminating the need for battery replacements. With its water-resistant design, this turquoise blue watch is suitable for everyday wear, seamlessly transitioning from the boardroom to casual outings with ease. This watch is a great choice for men who are looking for a stylish and reliable timepiece that can be dressed up or down.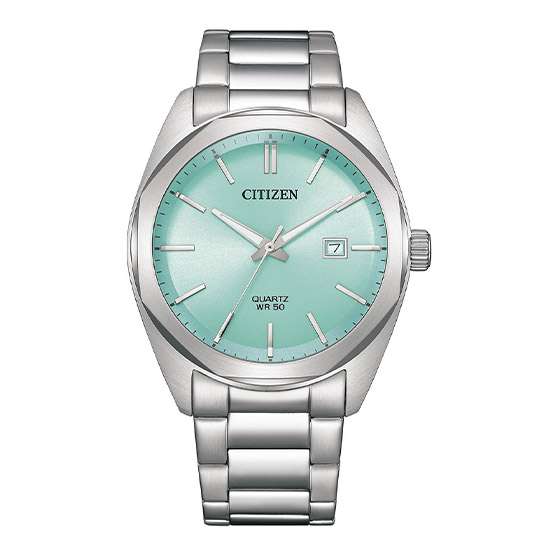 The Citizen Quartz Gents Watch features a convenient Fold Over Clasp with a Push Button buckle type, complemented by a durable Stainless Steel Band.
4. Fossil ME3241 Turquoise Blue Watch
The Fossil ME3241 is a great choice for anyone looking for a stylish and versatile timepiece that will last for years to come. Powered by a reliable automatic movement, the Fossil ME3241 keeps you on time without the need for batteries. The watch is also water resistant to 50 meters (5 ATM), so you can wear it without worry while swimming or showering. The watch's turquoise dial is the star attraction, adding a splash of color to any outfit without being too overpowering. The silver-tone hands and markers provide a nice contrast against the vibrant dial, while the day and date window adds a touch of practicality. The Fossil ME3241 is crafted from high-quality stainless steel, making it both durable and stylish. The case is well-polished and gleams in the light, while the bracelet is comfortable and easy to adjust to fit any wrist size. It is perfect for everyday wear, special occasions, or even for a workout.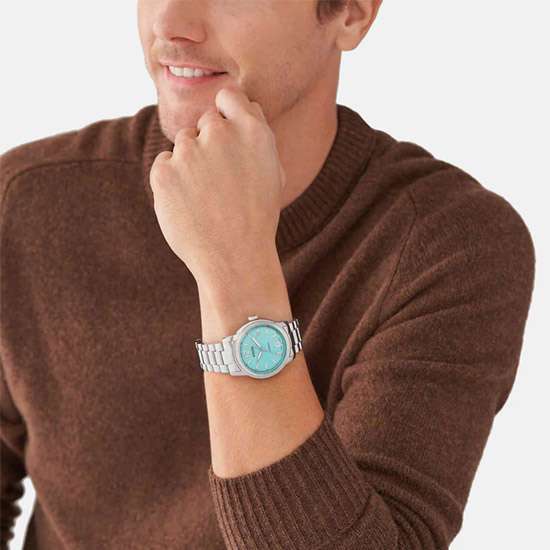 The Fossil ME3241 showcases an automatic movement, a sleek Stainless Steel strap in silver, and a durable Stainless Steel case with a water resistance of 5 ATM, making it a stylish and water-resistant timepiece.
5. Seiko Prospex SRPH57Limited Edition
The Seiko Prospex SRPH57 seamlessly blends timeless aesthetics with modern functionality, making it an ideal companion for both land and sea adventures. Its robust stainless steel case houses reliable automatic movement, ensuring precise timekeeping even in challenging environments. The watch is equipped with practical features, including a date display and a unidirectional rotating bezel, underscoring its functionality for diving and other outdoor activities. With water resistance, this timepiece is ready to accompany you on underwater adventures, making it a versatile choice for those who appreciate both form and function. With its unique color, limited edition status, and practical features, this SEIKO watch is not just an accessory but a statement of style and adventure. Made of stainless steel and equipped with a scratch-resistant anti-reflective sapphire crystal, a secure screw-down crown, and a Special Edition case back embellished with a sea turtle image, this durable watch complies with ISO standards for scuba diving, enabling immersion at depths of up to 200 meters.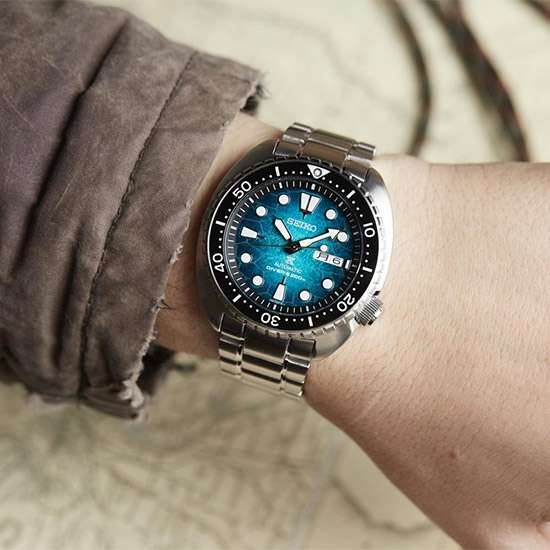 The Seiko Prospex SRPH57 Limited Edition is encircled by a black ceramic uni-directional rotating elapsed timing bezel. Its dial includes LumiBrite hands and markers, along with a day/date calendar.
Turquoise blue watches bring a refreshing and modern twist to traditional timepieces, and the showcased models from Rolex, Seiko, and Casio exemplify the versatility of this captivating hue. Whether you are a seasoned collector or a fashion-forward individual, a turquoise blue watch is a statement piece that adds a touch of sophistication and individuality to your wrist. Dive into the world of turquoise blue watches and let your timepiece reflect your unique style and personality.
FAQ
1. What makes turquoise blue dial watches popular?
Turquoise blue dial watches are popular for their vibrant and eye-catching color, adding a unique and stylish touch to timepieces. The color is often associated with a sense of calmness and modern aesthetics.
2.Are turquoise blue dial watches suitable for both men and women?
Absolutely. Many brands offer turquoise blue dial watches in various styles and sizes, making them versatile for both men and women. The color complements a wide range of fashion preferences.
3. How do I care for a turquoise blue dial watch to prevent discoloration?
Avoid prolonged exposure to direct sunlight and harsh chemicals. Regularly clean the watch with a soft, damp cloth to maintain its appearance.
5. Can I find turquoise blue dial watches at different price points?
Absolutely. Turquoise blue dial watches are available at various price ranges, catering to different budgets. It's possible to find both affordable and luxury options in this style.
6. Where can I buy a turquoise blue watch?
You can buy a turquoise blue watch from our website www.swisstimehouse.com or through our retail stores. Check our retail store locations at www.swisstimehouse.com/content/our-stores.
Comments (0)
No comments at this moment